Written by: Kimberly White
The Pacific island of Niue may be small, covering only 261 square kilometers, but it is making waves in the world of ocean conservation. The Government of Niue announced a bold new strategy to protect its entire marine environment in the face of the growing impacts of climate change, pollution, and extraction.
The Pacific island nation is protecting 100 percent of the ocean across its territorial waters and its entire exclusive economic zone (EEZ), an area covering more than 317,000 square kilometers, roughly the size of Norway.
Niue is building on previous legislation, having committed initially to preserving 40 percent of its ocean as a no-take Large Scale Marine Park, Niue Mona Mahu, in 2020. The newly established Niue Nukutuluea Multiple-Use Marine Park safeguards all of the island nation's sovereign waters and EEZ.
The marine park comprises a network of five conservation and sustainable resource use zones, each dedicated to a different activity. The zone featuring the pristine Beveridge Reef, an uninhabited atoll 120 miles away from Niue, allows scientific studies only and prohibits fishing. Niue has dedicated a three-mile zone for traditional fishing practices as well as sport fishing and scuba, while another ocean zone is open for commercial fishing. 
"The decision reflects Niue's ancestral tradition of taking only what is needed from the ocean to sustain life and ensure continued abundance for future generations," the Niuean government stated. "It also underpins the centrality of sustainable and responsible tourism that has been a significant part of Niue's sustainable development agenda and economy over the last decade. And ultimately, it helps to respond to the reality of unprecedented global pressure on our ocean from climate change, pollution and extractive industry."
From venomous sea snakes to spinner dolphins, Niue's waters are home to a myriad of biodiversity. Humpback whale sightings are common in Niuean waters. Each year, the cetaceans journey from Antarctica to Niue to give birth and nurse their young. Niue's sovereign waters also have the highest density of grey reef sharks in the world.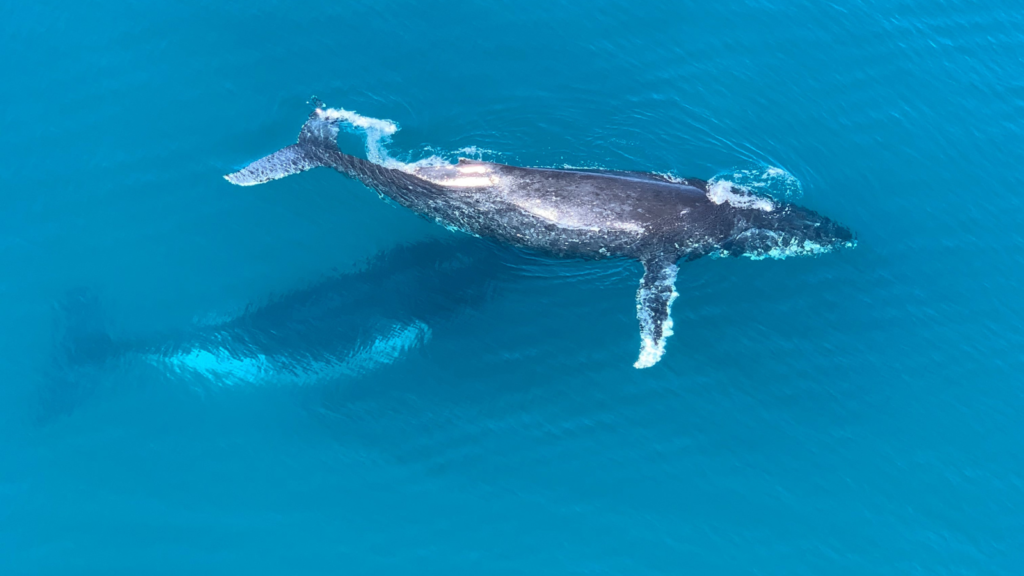 Niue's marine park will be monitored by satellite surveillance with the help of Global Fishing Watch. Those found in violation of Niue's marine park laws and fishing illegally face significant fines of up to NZ$500,000. Violators may be subjected to additional penalties such as the seizure of their vessels and catch. However, penalties could increase for serious crimes, according to the Niuean government.
"This degree of marine protection is groundbreaking, with all of the EEZ poised to see some level of protection and 40 percent of it fully protected," said Ashleigh McGovern, Vice President of Development and Innovation and Director of Partnerships at Conservation International's Center for Oceans. "We're thrilled to see this commitment from the government and people of Niue, and hope that their action will inspire other countries to follow suit with their own EEZs."
This isn't the first time this tiny Pacific island has made headlines for its biodiversity conservation efforts. In 2020, Niue became the world's first "dark sky nation." The International Dark-Sky Association, an organization focused on protecting the night sky from light pollution, formally recognized Niue as the first country to receive accreditation as an International Dark Sky Sanctuary and as an International Dark Sky Community.
Artificial light has wide-ranging impacts on our environment. Artificial light can disrupt animal migration patterns as well as interfere with reproduction strategies. Sea turtles and other marine species are particularly vulnerable to the impacts of artificial light. 
"The people of Niue are understandably proud and delighted to receive such an important acknowledgment from the International Dark-Sky Association. To be the first whole country to become a dark sky nation is a massive accomplishment for a small Pacific nation with a population of just over 1,600," said Felicity Bollen, Niue Tourism CEO. "The stars and night sky have a huge significance to the Niuean way of life, from a cultural, environmental, and health perspective. Being a dark sky nation will help protect Niue's night skies for future generations of Niueans and visitors to the country."