In honor of International Women's Month, The Planetary Press is highlighting women around the globe who are driving positive change for our planet and global community. Today, we are thrilled to introduce you to Climate Behavioral Scientist and CEO of We Don't Have Time U.S., Dr. Sweta Chakraborty.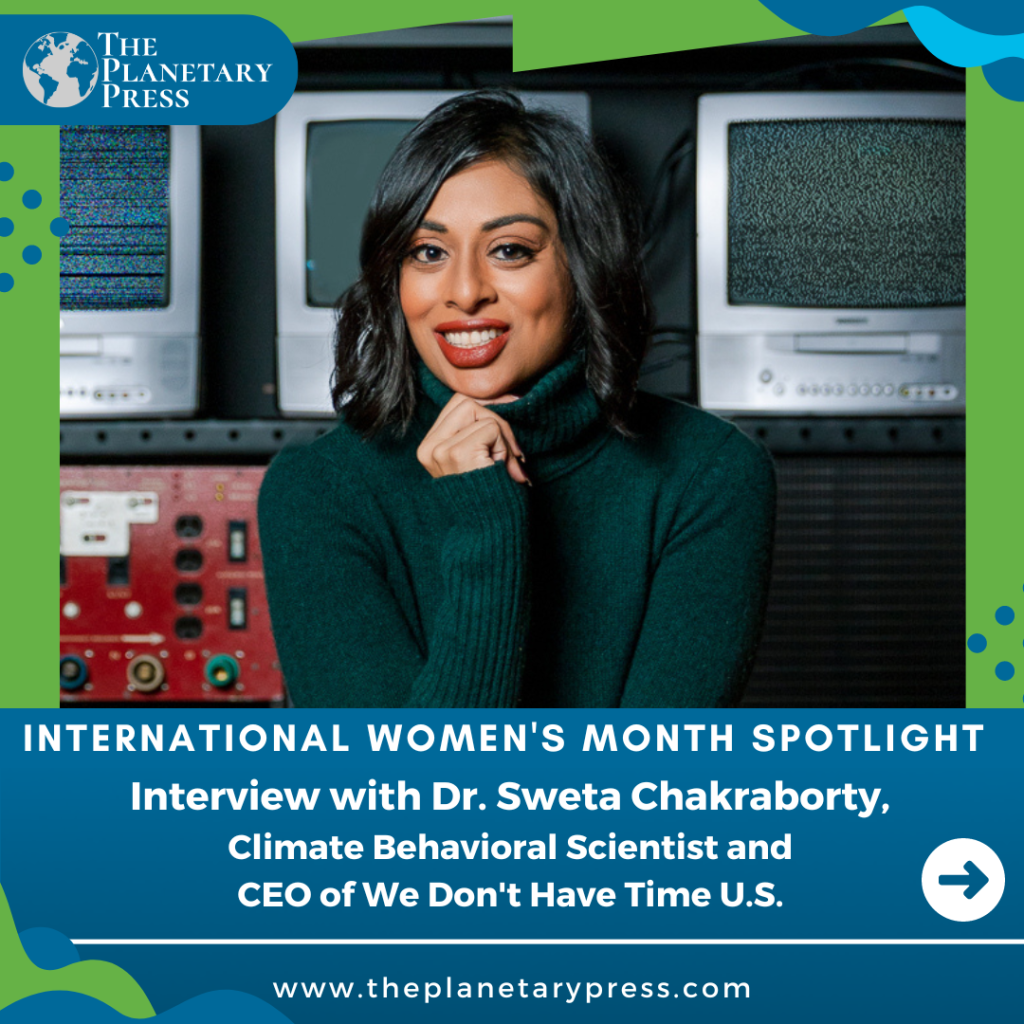 You have a very impressive career as a risk and behavioral scientist, educator, scholar, and world-renowned speaker. Please tell us more about your background and what drew you to your field of expertise. 
The world is increasingly experiencing the impacts of climate change in real-time. The only positive of this scenario is that as a communications and behavioral scientist, I find myself in a peak time for communicating the reality of the risks currently underway and in our collective, imminent futures– since people, policymakers, and CEOs are finally paying attention!
This wasn't the case when I first started down the path of becoming a behavioral scientist. Not only was the climate crisis barely discussed outside of academic circles, but there were also no career opportunities for those graduating with behavioral science degrees. I had no choice but to continue my studies and ultimately apply my field to communicating about the risks of the moment– e.g., swine flu, synthetic biology (it was 2009).
Once knowledge of the climate crisis reached my ears, it became clear that I had to contribute my expertise in behavioral science to tackle what was then, and continues to be now, the most pressing threat to our human existence. We are in a moment of time where we can take full advantage of learnings from behavioral science to effectively communicate and align societal behavioral change to the science.
I find myself uniquely positioned now as a scientist and communicator to do my part in moving individuals, communities, and companies to act on the facts. We need to collectively secure our futures in the face of a rapidly warming planet. I have always been driven by wanting to make the most impact on the most pressing risk, and in my case, that is supporting global behavioral change in the face of climate change.
You are the CEO of We Don't Have Time U.S. Can you tell us about your work and your mission with We Don't Have Time?
The climate crisis is a communications crisis. We have the solutions, but we are not communicating them effectively. We must halve our global emissions by 2030 to reach net zero by 2050. Communicating solutions is the key to mobilizing society to reach this goal. This is why we created We Don't Have Time, the world's largest social media platform for climate solutions.
We Don't Have Time is where the climate conversation continues 24/7—even when the COPs stop. We connect companies, communities, scientists, policymakers, advocates, journalists — everyone who wants to solve the climate crisis. We Don't Have Time facilitates the sharing of good ideas and the scaling of climate solutions. With the support of our extensive network, we have successfully accelerated climate solutions for more than five years. Still, our work has just begun.
Today, we have more than 120,000 monthly active users from 160 countries. Through our users, global broadcasts, and media partnerships with Twitter, Spotify, and LinkedIn, we have a social media reach of more than 190 million per month.
As We Don't Have Time's CEO of North America, I am also acutely aware of my responsibility as a woman of color leading a climate tech company. I believe strongly in leading by example and look both within my company's operations and across our value chain to ensure we are progressing diversity and inclusion.
Only when we course correct for the historical disenfranchisement of women, and particularly women of color, will we truly be able to build a future that is not only sustainable but is also fair. A just future isn't simply "nice to have," but rather, it is critical to the stability of our planet and our very human existence. We wouldn't be in the current situation we are in if women had been equally represented in decision-making roles.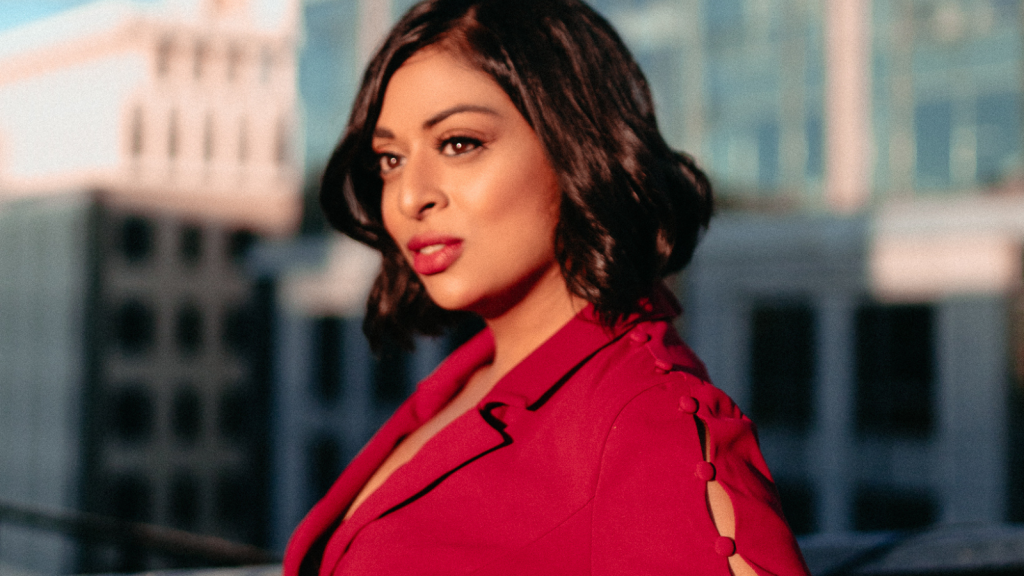 You recently launched the non-profit House of Scientista with the aim of empowering women and underrepresented groups to pursue careers in STEM. Can you share more about the organization?
I launched House of Scientista on the premise that the immense sustainability challenges ahead for our planet require more women to pursue science, technology, engineering, or mathematical (STEM) studies and careers. The future health of our planet needs women to contribute to the solutions collectively required, and women must not be deterred from these pursuits because they are perceived as not feminine or fashionable.
As women scientists (scientistas!) who appreciate and admire fashion and beauty, we know that science and feeling like a woman are not mutually exclusive. Unfortunately, young girls perceive women in STEM as less attractive and view the pursuit of STEM fields as primarily for men.
Women make up almost half of the college-educated workforce in the United States, but only 25 percent of scientists and engineers are female. We know the reasons for this are complex, and the role of the media and the lack of portrayal of women in STEM fields is a significant part of the challenge. Letting young women see themselves in future science roles is critical in improving STEM attrition rates for women. We have robust evidence that representation matters. When young women, especially women of color, do not see themselves represented in STEM fields, they may internalize that such careers are not for them.
This is where House of Scientista can play a critical role. We aim to break down the far-reaching, deleterious stereotype of women scientists by joining forces with the fashion and beauty sectors to showcase how science, fashion, and beauty are not mutually exclusive. We target potential young female scientists– who I lovingly refer to as scientistas– and their allies to build a movement around encouraging women to pursue STEM fields and careers.
Given your expertise, what role does communication play in environmental activism, and how can it help combat climate anxiety and despair?
Science, facts, and evidence about our current and future environment due to climate change will not change, but how and who communicates the science can and must adjust based on the audience. Finding the right, trusted spokesperson and the right method of information delivery will go a long way in reducing responses ranging from indifference to anxiety in the recipient audience.
We need youth activists to continue to raise their voices and reach their peers around the world. There can be thousands of Greta Thunbergs communicating to their peers and resulting in millions of youth campaigning for the climate.
Similarly, retired military leaders can raise their voices to reach more conservative households in America that may be hostile to hearing about climate change from a Greta but will respect decorated military heroes explaining the risk of heat to men and women in uniform. It's all the same facts, but we must be more thoughtful in how they are delivered (and by whom!) if we are going to get the widespread behavioral change we need to overcome this climate crisis.
The reality of the climate crisis cannot be understated. The facts are terrifying, but how they are conveyed can result in positive actions and steps toward overcoming a crisis that is still solvable. This is the critical role of communication— turning facts into positive behavioral outcomes for individuals and society.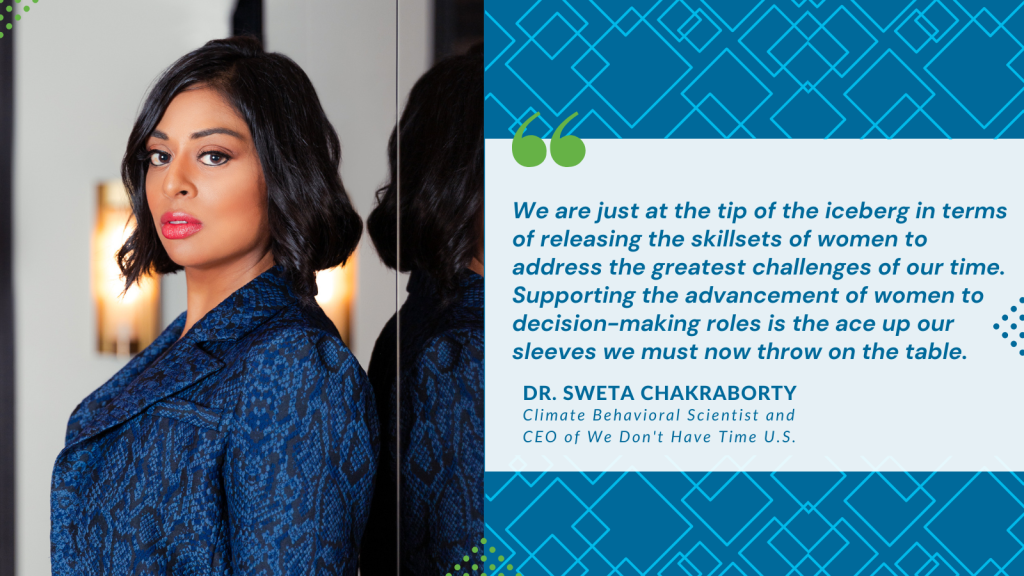 How can advancing gender equality and empowering women deliver cross-sectoral, long-term solutions and results to the climate emergency?
If we are going to confront and overcome climate change, we need to accelerate the female half of the US and global population to turn their talents towards finding solutions to our warming planet. We know that 70 percent of Americans are worried about global warming and support moving to clean energy. Tens of millions of Americans are parents and grandparents— mothers and grandmothers. These Americans identify as alarmed by climate change, but they do not know what to do about it, as has been unearthed by the Yale Program on Climate Change Communication.
Imagine, what if we could empower this demographic to act knowledgeably to tackle the climate crisis? We are just at the tip of the iceberg in terms of releasing the skillsets of women to address the greatest challenges of our time. Supporting the advancement of women to decision-making roles is the ace up our sleeves we must now throw on the table.
Solutions-oriented activism is a core focus of We Don't Have Time. What are some of your favorite solutions you have seen on the platform?
Some of my favorite solutions on We Don't Have Time have been through the Dragonfly's Den pitch competition. Similar to ABC's Shark Tank, the Dragonfly's Den pitch competition is a unique way for climate start-ups to pitch their solution to a worldwide audience during our live broadcasts. I often am chosen to judge these competitions, but it's hard to pick favorites.
However, I enjoyed seeing our We Don't Have Time partner, Terraformation, speak about their mission for achieving global reforestation during their Dragonfly's Den pitch at COP27. I've also been following Terraformation's We Don't Have Time profile since they're always putting out new articles, such as the need for biodiverse seeds and their 2022 in review. As a climate behavioral scientist, it's been great to see Terraformation combining Silicon Valley thinking with nature-based solutions and utilizing effective growth strategies.
How can technology be a critical tool to combat the climate crisis, and what new innovations or technologies are you most excited about?
Introducing new climate technology and updating existing technology to be more climate-friendly is critical to combatting the climate crisis. I had the opportunity to visit the Climeworks facility last year, where they remove CO₂ directly from the air! It will be interesting to see how technologies like this develop and how they're able to scale globally.
Additionally, I've been excited to collaborate with We Don't Have Time partners like Pachama. It's fascinating to discover how Pachama uses satellite images and AI to track forest growth and carbon projects all over the globe. 
Keep up with Sweta and We Don't Have Time!
We Don't Have Time: www.wedonthavetime.org
Dr. Sweta Chakraborty: www.swetachakraborty.com
Instagram: @swetachak
Twitter: @swetac
Facebook & LinkedIn: Dr. Sweta Chakraborty