Written by: Phil Baty
"Yes, we educate. Yes, we do research. But if we are not making an impact and making a difference then we are not fulfilling the goal of our existence." So says Claire Pollock, provost of Western Sydney University, named as the world's number one university overall for the second consecutive year in the Times Higher Education Impact Rankings.
The Impact Rankings are different to standard university ratings. They do not judge universities on traditional metrics, such as their academic reputation, their resources, their Nobel-prize-winning faculty or their entry requirements. The Impact Rankings judge the impact universities make on the world through a detailed assessment of the contribution they make to the United Nations Sustainable Development Goals (SDGs).
Western Sydney University beat more prestigious, household-name universities to the world's number one position for its global leadership across a number of specific SDGs. Its vice-chancellor, Barney Glover, told Times Higher Education that the university's multiple urban campus locations across Sydney's Greater Western region give it a first-hand experience of some of the biggest sustainability challenges of the 21st century: rapid urban growth, urban heat and entrenched inequalities.
SDG5 demands gender equality and SDG10 seeks reduced inequality more generally. Western Sydney University has demonstrated its commitment to tackling these goals not just through a strong record of research in the field, but by its own actions: 46 percent of its senior academic staff are women and more than 7,000 of its students are the first in their families to go to university.
In terms of climate action (SDG13), the university boasts the prestigious Hawkesbury Institute for the Environment and it can also show that 100 percent of the electricity used on campus is from renewable sources and that it has a fast-track commitment to a carbon-neutral campus.
The Impact Rankings assess universities across all 17 of the SDGs on four key parameters: their research; their teaching; their outreach to governments, businesses and the wider community; and the stewardship of their own resources, including their campuses, but more importantly perhaps, their people. There are 17 separate rankings for each of the 17 SDGs and an overall ranking showing institution-wide commitment across the board.
This unique lens provides a fresh, alternative perspective on university excellence and it makes for a highly diverse ranking. Five different countries make up the overall world top ten, for example. Taking second place overall behind Western Sydney, is the UK's University of Manchester, followed by Queen's University in Canada. Malaysia's Universiti Sains Malaysia takes fourth place, while another Australian university, Tasmania, completes the top five. America's Arizona State University takes sixth place.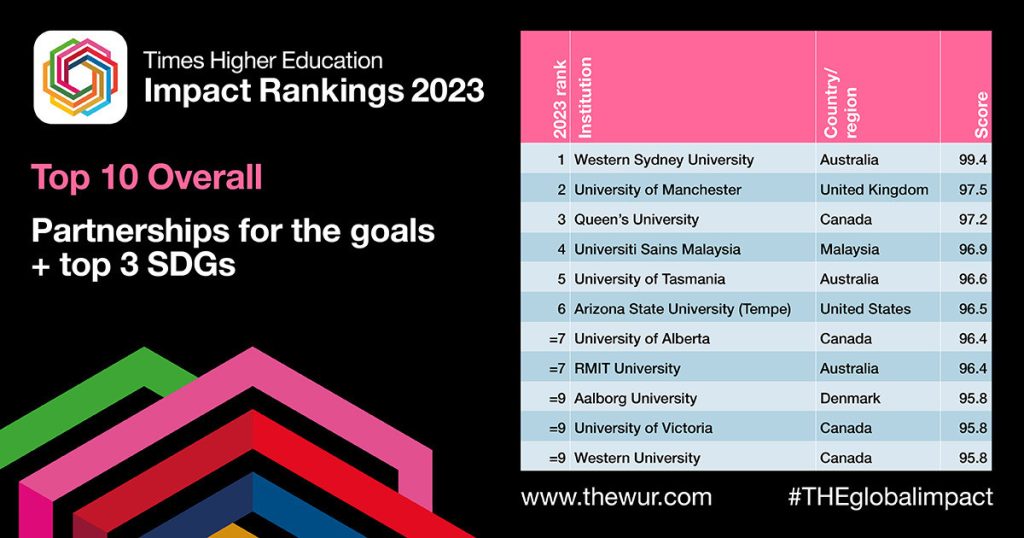 Amid the great diversity of excellence on display in the Impact Rankings, some dominant regions have emerged. Canada dominates the overall world top ten, with four institutions included, and it takes 16 of the world top-100 places, ahead of Australia, with three top-ten universities and 15 top-100 entrants. The UK leads the overall top 100 list, taking more places than any other nation, with 26.
The diversity shown in the overall list continues in the 17 individual rankings for each SDG, where ten different countries take a number-one position, including many institutions from the Global South: South Africa's University of Johannesburg takes the top position for SDG1 (no poverty); Ghana's Kwame Nkrumah University of Science and Technology leads for SDG4 (quality education); IPB University in Indonesia and Australia's RMIT University take joint first place for SDG8 (decent work and economic growth); and Universiti Sains Malaysia leads the table for SDG16 (peace, justice and strong institutions).
Thousands of universities rank for delivering SDG goals
With the ranking in its fifth annual edition in 2023, a record 1,705 universities from 115 countries were assessed, as more institutions worldwide seek to demonstrate their commitment to helping deliver the SDGs.
In an interview with Times Higher Education, Arsh Ahmed, Vice Chancellor of Pakistan's Lahore University of Management Sciences, lamented that the world does not seem to have much faith in the contribution that higher education can make in delivering the SDGs – pointing out that the word "university" appears only once in the UN's description of the SDGs and their targets and metrics. "We want to prove any doubters wrong – to show that in fact we are extremely well positioned and can make a huge difference," he said.
For John Gill, Times Higher Education's Editor, the Impact Rankings provide that proof. They highlight, he says "a simple truth: that far from being ivory towers, universities of every size and type are at the forefront of addressing the most pressing problems facing the world, with the great advantage that they are embedded in communities pretty much everywhere."
Republished with permission from World Economic Forum