Written by: Kimberly White

Nevada Governor Steve Sisolak has announced his plans to join the U.S. Climate Alliance. Earlier this month, Governor Sisolak accepted the invitation to join the bipartisan Alliance from Governors Cuomo, Inslee, and Newsom.

"Climate leadership is desperately needed, and states must take the reins in tackling this critical challenge. The lack of recognition of the existence of climate change, let alone its dramatic impact, at the federal level means that our states and our local governments need to lead and take the steps necessary to address this crisis. On behalf of the State of Nevada, I am proud to accept the invitation from the Alliance Governors to become a member of the U.S. Climate Alliance and join my fellow governors from both sides of the aisle in committing to significantly reducing carbon emissions," said Sisolak.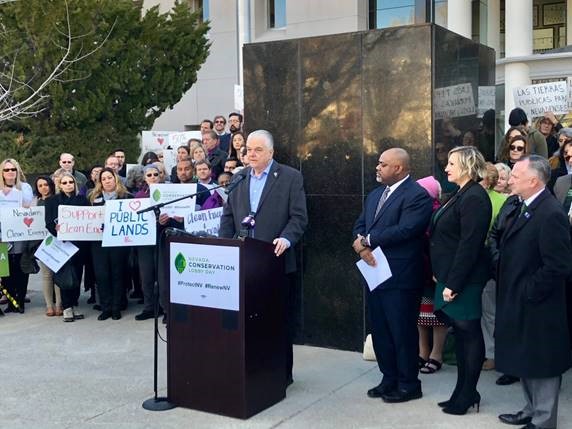 In 2017, the U.S. Climate Alliance formed in response to the announcement of the United States' intent to withdraw from the Paris Agreement. Through the Alliance, each state commits to reducing its emissions in line with the U.S. target under the Paris Agreement.

By joining the U.S. Climate Alliance, Governor Sisolak commits to:

Advancing the goals of the Paris Agreement through policy and aiming to reduce Nevada's greenhouse gas emissions by at least 26-28% below 2005 levels by 2025.
Track and report progress to the global community.
Reduce carbon pollution by accelerating new and existing policies and promoting clean energy deployment at both a state and federal level.
Nevada is already facing a changing climate. Over the past century, the state has warmed by 2°F. Heat waves are occurring more frequently, and snow is melting earlier.

According to a 2016 report from the EPA, climate change will likely cause the flow of water in the Colorado River and other rivers in Nevada to decrease- increasing the intensity and frequency of wildfires.

"I said in my State of the State address that I will not spend a single second debating the reality of climate change and its impact on our state. By joining the U.S. Climate Alliance, we are taking bold steps to ensure a better, healthier future for our children. With these ambitious goals and commitments to reduce our carbon footprint, I am determined to make Nevada part of the solution." said Sisolak.

The Nevada Governor joins twenty-two other governors including Governor Charlie Baker (MA), Governor Ricardo Rosselló (PR), and Governor Larry Hogan (MD).

The U.S. Climate Alliance represents more than half of the U.S. population and an $11 trillion economy.
Header Image Credit: Erik Gloege/Wikimedia Commons (CC BY 4.0)