Written by: Kimberly White
The Smokey Bear wildfire prevention campaign was launched 75 years ago in 1944 and is the longest-running public service campaign in U.S. history. Smokey Bear has been protecting the forest community and teaching Americans wildfire prevention for generations with his message, "Only YOU can prevent wildfires."
Did you know that there was a real-life Smokey Bear?  On a spring day back in 1950, high in a fire tower located in the Capitan Mountains of New Mexico, a spotter saw smoke. He quickly called the closest ranger station and reported the location. Crews were dispatched and soon arrived to find a raging wildfire fueled by high winds. As they struggled to gain control of the flames, a report came in that a small bear cub had been seen roaming around near the fire's edge. They hoped the mother bear would be able to find her cub as they fought against the fast-moving blaze.
The wildfire was advancing so rapidly that a crew of thirty firefighters was caught directly in the path of the flames. Using their training, the firefighters survived by lying face down on a rockslide as the firestorm burned past them. When the smoke cleared and the crew was able to look around, they found the small bear cub.
Separated from his mother, the cub took refuge in a tree that had been caught in the fire. While the cub survived, he suffered from severe burns. The crew removed him from his charred refuge and soon he was on his way to get the help he desperately needed.
The story of the little bear spread quickly and was soon known nationwide. People wanted to know about the cub and his recovery; they were writing letters and sending gifts of honey or calling in to ask about him.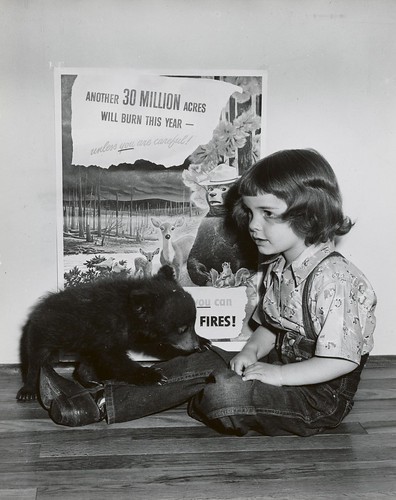 With interest in the bear cub growing, the state game warden contacted the chief of the U.S. Forest Service and suggested the cub become part of the Forest Service's wildfire prevention campaigns. It wasn't long before the little bear was on his way to Washington D.C. where he became the first living symbol of Smokey Bear.
Forests are more than an assortment of trees and shrubs lining our motorways and filling our state and national parks. Forest ecosystems are a terrestrial community of biodiverse plants, mammals, reptiles, and insects living together under a canopy of trees, and they are essential for our life on earth. Forests provide us with the oxygen we breathe to survive, support the livelihoods of 1.6 billion people, and help mitigate climate change by capturing carbon and sequestering it in their soils.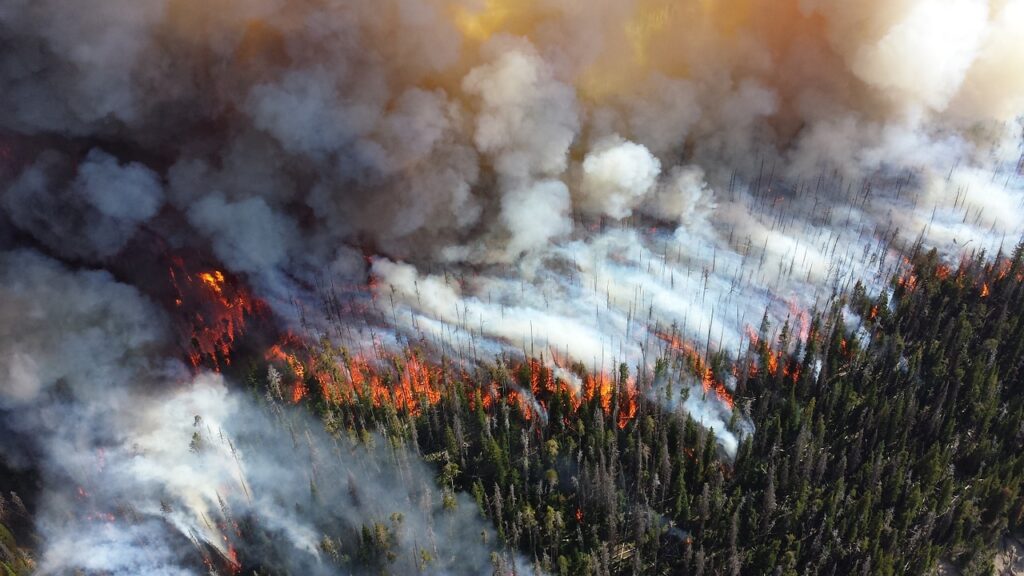 Nearly 90% of wildfires are human-caused. In 2018, more than 8 million acres burned in over 58,000 wildfires across the United States.
May is National Wildfire Awareness Month, and the message of Smokey Bear is as relevant today as it was in 1944. Smokey's slogan advises everyone to make it their personal responsibility to take care of the world around them.
Here are 10 things you can do to help prevent a wildfire:
Only use an appropriate firepit and clear surrounding vegetation
Never leave a fire unattended
Completely extinguish your fire
Be sure to completely extinguish cigarettes and matches before disposing of them
Avoid backyard burning on windy days
Be prepared to extinguish a fire that becomes a nuisance
Don't park a hot car on dry grass
Make sure chains are secure when towing and not causing a spark
Consider wetting down grass and vegetation before lighting fireworks
Keep lighters and matches away from children
For more tips and to learn more about Smokey Bear and how to prevent wildfires, please visit Smokey Bear and the U.S. Forest Service.
Header Image Credit: Rudy Wendelin/U.S. Department of Agriculture (CC BY 2.0)