Written by: Kimberly White
Global Wildlife Conservation and the Wildlife Conservation Society are working to save Mesoamerica's five largest forests. The wildlife groups teamed up with four Central American countries, the Central American Commission for Environment and Development (CCAD), Indigenous peoples, and local communities to launch the Five Great Forests Initiative.
Five Great Forests was launched by CCAD, the Ministers of Environment from Costa Rica, Guatemala, and Panama, and Minister, Private Secretariat for National Policies of Nicaragua at an event during the UN Climate Action Summit earlier this week.
The Five Great Forests Initiative aims to protect the largest forests in Mesoamerica: the Maya Forest in Mexico, Guatemala, and Belize; Moskitia in Nicaragua and Honduras; Indio Maíz-Tortuguero in Nicaragua and Costa Rica; Talamanca Region in Costa Rica and Panama; and the Darien in Panama and Colombia.
Together, the forests span more than 120,000 km2 and serve as a vital environmental resource.
The five forests hold approximately 50% of the forest carbon in the region and provide valuable ecosystem services such as clean water, clean air, food security, and climate stability to more than 5 million people.
Additionally, the region is a wildlife hotspot. More than 7.5% of the world's biodiversity calls the Mesoamerican forests home, including the critically endangered Central American spider monkey, endangered Baird's tapir, scarlet macaw, and the iconic jaguar.
"Mesoamerica's people, culture, biodiversity, resilience to climate change, economic health – its very essence, all depend on these five great forests," said Carlos Manuel Rodríguez, Minister of Environment, Costa Rica. "And these five great forests also provide services for all of humanity – if protected, nature can provide more than a third of the solution to climate change."
Agriculture causes 80% of tropical deforestation worldwide. Globally, deforestation is the second leading cause of the climate crisis and is responsible for 24% of global greenhouse gas emissions.
Animal agriculture has been a leading climate offender over the years. The UN estimated that the industry emits around 7.1 gigatonnes of carbon dioxide each year. Beef and cattle production account for the majority of those emissions with the primary sources being enteric fermentation from ruminants, feed production and processing, and manure decomposition. The process is also resource-intensive. Production of 1kg of beef requires 25kg of grain and approximately 15,000 liters of water.
Rampant deforestation driven by the global demand for beef has plagued the forests. Since 2000, three of the forests have seen a reduction of 23%. Overall, 90% of the deforestation that takes place in the five forests can be attributed to illegal cattle ranching, which is sometimes used as a front for organized crime and drug trafficking.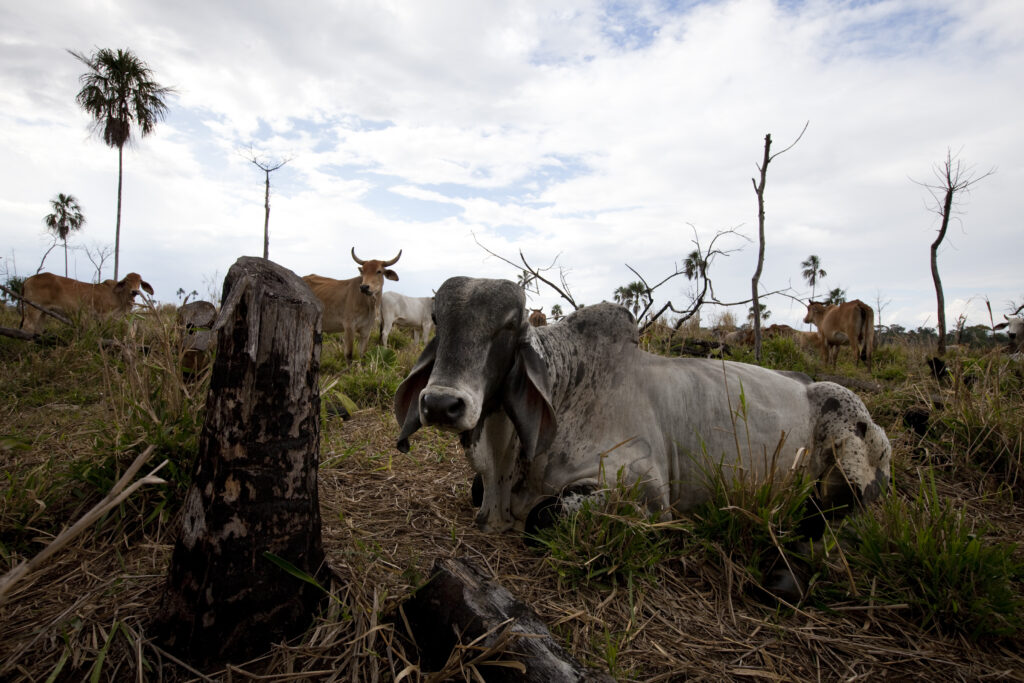 In a 2018 report by Reuters, the Executive Director of Fundación Neotrópica, Bernardo Aguilar identified drug trafficking as one of the biggest problems facing Central American forests today.
"Drug trafficking has become a major cause of deforestation in the region because transportation routes have been established throughout the Central American region," stated Aguilar.
A 2017 study published in Environmental Research Letters found that drug trafficking was responsible for approximately 30% of deforestation in Nicaragua, Guatemala, and Honduras each year. Traffickers are converting the forest into agricultural land.
"Most of the 'narco-driven' deforestation we identified happened in biodiverse moist forest areas, and around 30 to 60 percent of the annual loss happened within established protected areas, threatening conservation efforts to maintain forest carbon sinks, ecological services, and rural and Indigenous livelihoods," said Dr. Steven Sesnie of US Fish and Wildlife Service and lead author of the study.
Indigenous and local communities manage half of the remaining Five Great Forests but are at risk of losing their way of life due to agricultural expansion.
"Central America alone has approximately 80 different Indigenous peoples, and many of these have territories that overlap with the Five Forests," said Christopher Jordan, GWC's Central America and Tropical Andes Coordinator, "This means that the advance of illegal, expansive cattle ranching into these forests not only threatens biodiversity and depletes regional carbon stocks, but also threatens the food security of Indigenous peoples, and endangers their cultures and languages. Nowhere are the profound negative impacts of animal agriculture more pronounced."
Through the Five Great Forests Initiative, the collaborating partners are committing to addressing the drivers of deforestation; improving forest governance by strengthening the management of protected areas, community forests, and Indigenous territories; and improving livelihoods with forest-friendly and climate-resilient economic alternatives.
Over the next decade, the aim is to ensure that:
No wildlife species in the great forests go extinct
10 million hectares of land are protected
500,000 hectares of forest are restored
Illegal cattle ranching within the boundaries of the five forests ceases entirely
"Indigenous leaders, community land managers, and park rangers are putting their lives on the line every day to protect Mesoamerica's forests and the services they provide for all of humanity," said Jeremy Radachowsky, WCS Regional Director for Mesoamerica and Western Caribbean. "We owe it to them to provide the financial, political, and technical support necessary to protect, restore, and secure these magnificent places."
Header Image Credit: Jayro Bardales/WCS