Written by: Sean Fleming
Just for a minute, think about the shower gel you use. Or the laundry detergent, ice cream or fruit juice you buy. When you buy it, it's yours – all of it. The contents and the packaging. But what if that wasn't the case? What if you only borrowed or rented the containers, which were returned, rinsed, and reused time and time again?
That's the idea behind Loop, which extends its operations with a UK launch in March. It's an approach that echoes the heyday of the milkman – the daily doorstep delivery of milk and other perishables.
The Loop service was developed by the recycling company TerraCycle and currently operates in the US and France and plans to expand into Australia, Canada, Germany, and Japan as well as the UK this year. It was first announced at the World Economic Forum's Annual Meeting in Davos in 2019.
Vicious circles
"Today, we live in a completely disposable world which creates a massive amount of waste," says TerraCycle CEO Tom Szaky. "We don't even know what's recyclable anymore."
More than 90% of plastic is never recycled and 300 million tonnes of plastic waste is generated every year, with around 8 million tonnes of it ending up in the ocean. There are microplastics on the seabed and even in the rain.
Customers who want to use the Loop service pay a fee for the use of the returnable containers. They then place online shopping orders, as with any other ecommerce grocery service. The difference comes when their shopping is delivered. It arrives in a large, insulated box with individual products supplied in reusable containers. The box is used to store the empty containers, which are collected by Loop to be washed and used again; there are no wrappers or boxes and no single-use plastics.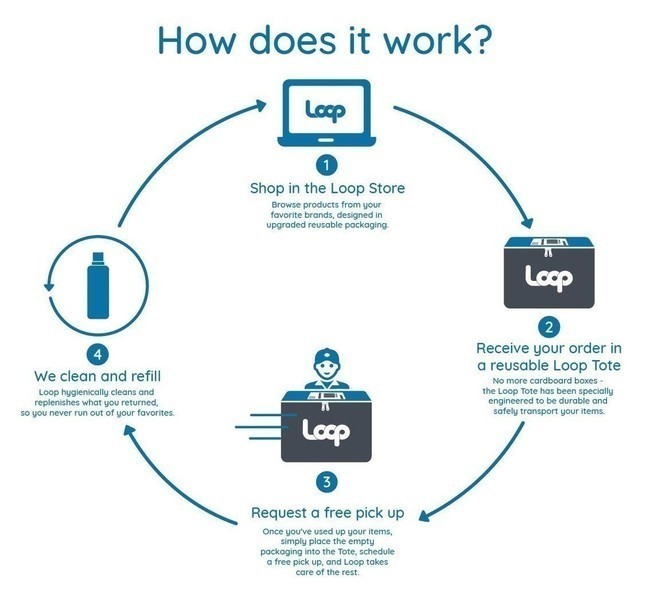 Circular improvements
Reducing the amount of plastic pollution our consumption habits inflict on the environment is a complex challenge.
Single-use plastic is cheap and its use has enabled lower-priced, longer-lasting goods that consumers have grown used to. The extent to which it is so heavily relied on by manufacturers, retailers and distributors, along with failures to ensure its proper disposal are at the heart of the problem.
Consequently, there needs to be a multifaceted approach to changing our relationship with plastic: innovation and redesign of plastic materials, increased availability of reusable packaging, a more economically viable recycling sector, and changing consumer habits.
"How do we give the benefits of 'disposability' – affordability and convenience – to consumers, while taking away the negatives?" Szaky says, explaining the rationale behind Loop.
The process of receiving and returning the bottles and jars has been made as simple as possible, Loop says, to remove any perceptions that shoppers are being inconvenienced by the circular economy. By returning resources that are cleaned and reused, energy, raw materials and waste can all be reduced.
Collaborative efforts
When it launches in the UK, it will be selling products from Unilever and PepsiCo brands including Tropicana, Persil and Hellmann's, via a dedicated website and eventually through retailer Tesco.
In the US, through its partnerships with Krogers and Walgreens, Loop offers ice cream, razors, household cleaners and personal grooming products. It all arrives in reusable glass and metal bottles.
There are no subscription or membership fees for users of its service, just a returnable deposit which varies between $1 and $15 depending on the product. "Do you want to own your coffee cup when it's empty or a chip bag when there's no chips left in it?" Szaky asks.
"The greatest obstacle in creating a platform like Loop is that it relies on many partners acting together in a symbiotic way," he continues. "It is by definition a multi-stakeholder collaboration where we need many major brands to join and we need many retailers to take part as well."
The World Economic Forum has helped connect TerraCycle and Loop with logistics giant UPS and some of the world's leading retailers and consumer goods companies – including Procter & Gamble, Coca-Cola, Carrefour, Tesco, Mondelēz, PepsiCo, Danone, Mars, Nestlé and Unilever.
Header Image Credit: Loop
Republished with permission from World Economic Forum