Written by: Victoria Masterson
A company based in Copenhagen, Denmark, hopes to turn 500,000 people and 10,000 businesses into tree owners by 2030.
Inspired by the country's successful bottle return scheme, EcoTree devised a simple model to engage people in forestry by letting them invest in individual trees or whole forests – and reap the benefits when the tree or forest is eventually cut down to make sustainable timber.
"The forest is one of our best means to fight global warming, as trees absorb CO2 through the process of photosynthesis," EcoTree explains.
The average tree absorbs 150kg of CO2 per year, according to the United Nations. By 2030, the company hopes to be removing 300,000 tonnes of CO2 annually.
Sustainable forestry
EcoTree owns forest land but gives ownership of the trees to individuals and businesses, who see their initial investment grow by 2 percent each year.
"Once its contribution to the carbon sink eventually declines, the sold trees are selectively cut and generate revenue as sustainable timber, at minimal impact to the forest," EcoTree explains. Three new trees are then planted for each cut tree.
Investors can buy and track trees on EcoTree's website and receive 100 percent of the revenue from the final cut.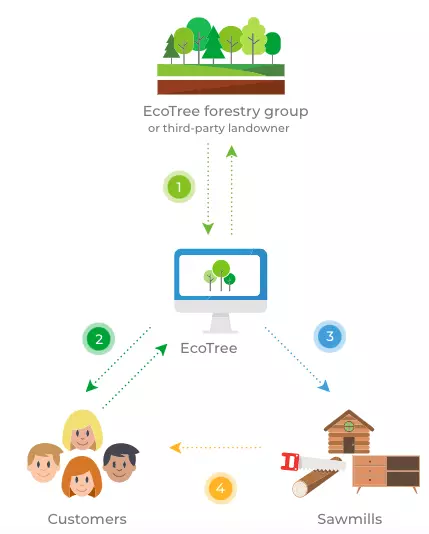 A trillion trees
Conserving existing forests, restoring forest ecosystems and reforesting suitable lands is essential if the world is to create sustainable economies and societies, according to the Trillion Trees platform, 1t.org.
The reforestation initiative was announced at the World Economic Forum Annual Meeting 2020 in Davos and was set up to support the UN Decade on Ecosystem Restoration (2021-2030).
The aim is to conserve, restore and grow one trillion trees by 2030, to aid biodiversity and fight climate change.
Republished with permission from World Economic Forum