Written by: Andrew Mahar
High in the mountains of Timor-Leste, a group of subsistence farmers earn an income by planting trees, leading the way to a future of self-determination for their families and local communities.
The WithOneSeed community forestry programme began in Baguia, Timor-Leste, in 2009 and is the only Gold Standard certified community carbon offset programme in the region.
As a community social enterprise, WithOneSeed establishes village-based plant nurseries to grow seedlings and then pays small landholders annual incentives to reforest their land by planting and maintaining the trees. More than 980 subsistence farmers are part of the programme, which enables them to generate an income while taking real action on climate change.

WithOneSeed makes four commitments:
to address environmental degradation through community reforestation;
to build village economies through payment to small landholder farmers who grow and maintain forest trees;
to educate communities about the importance of trees for climate adaptation and mitigation measures;
and to build regional partnerships to collaborate on climate change.
Rural communities in Timor-Leste have relied on subsistence farming for generations, with many subsistence families living on less than a dollar per day. Since the country achieved independence in 2002, these same communities have been acutely aware of the negative impact of environmental degradation and the importance of environmental regeneration for their survival. WithOneSeed provides a solution to enable communities to address these issues and village communities are now reaping the environmental, social and economic benefits of the WithOneSeed community reforestation programme.
With 200,000 trees planted and more than 80,000 tonnes of CO₂ removed from the global atmosphere (to date), these collective actions have enabled 45,000 carbon credits to be sold to companies and individuals committed to carbon drawdown. More than $400,000 has been paid directly into the Baguia village economy from the sale of carbon credits.
At a local level, the environmental benefits of WithOneSeed are significant. In addition to helping reduce atmospheric carbon levels, reforestation reduces soil erosion and improves soil and water quality, thereby affecting crop yields and nutrition, which in turn leads to better health and well-being of communities, and promoting regenerative development.
The social and economic benefits of WithOneSeed are also substantial. In many cases, the programme doubles the annual incomes of subsistence-farming families with incentive payments: a small amount per tree for each year the tree is alive generated from the sale of carbon credits. The additional income increases financial independence and families' freedom to choose how they live, including the possibility for children to complete their schooling. The programme helps to build the local economy, boost education and training, and increase social and economic participation.
At a national level, the Timor-Leste economy has been dependent on fossil fuels with its major resources being oil and gas reserves. WithOneSeed opens up alternative economic models, vital to the growing global push towards renewable energy, fossil fuel divestment and urgent action on carbon drawdown. At an international level, the programme and its emphasis on restoring the environment and boosting subsistence incomes addresses 10 of the 17 UN Sustainable Development Goals.
The simple premise of the WithOneSeed philosophy is that putting an "earned" dollar in a person's pocket gives them the power to make decisions for themselves and their family. It is moving beyond charity and aid to a sustainable livelihood that delivers respect, self-esteem, self-determination and self-reliance.
Always looking for ways to improve the model, WithOneSeed has developed and implemented a technology platform called TreeO2. TreeO2 uses RFID tags which are attached to each tree at breast height. Each farmer is provided with a WithOneSeed membership card, which also contains an RFID chip, giving them and each tree a unique ID. The two IDs are linked by TreeO2 which allows the programme to maintain a range of data, including the number of trees each farmer is managing, planting date, species, GPS location, circumference measurements, carbon stored and farmer payment information. TreeO2 stores this information in a cloud-based server which can be analysed at any time. It is linked with remote satellite sensing technology to give a very accurate record of forest and carbon gain.
TreeO2 plays a significant role in managing the new forests and will deliver significant efficiency and transparency gains, particularly for the certification and subsequent sale of carbon credits. The platform will also deliver cost-saving in relation to performance audit costs, which can be a significant inhibiting factor to smallholder participation in community forestry activities.
TreeO2 has the aim of significantly reducing time and costs in maintaining smallholder community forestry programmes anywhere in the world and provides great confidence and transparency that we are actually doing what we say we are.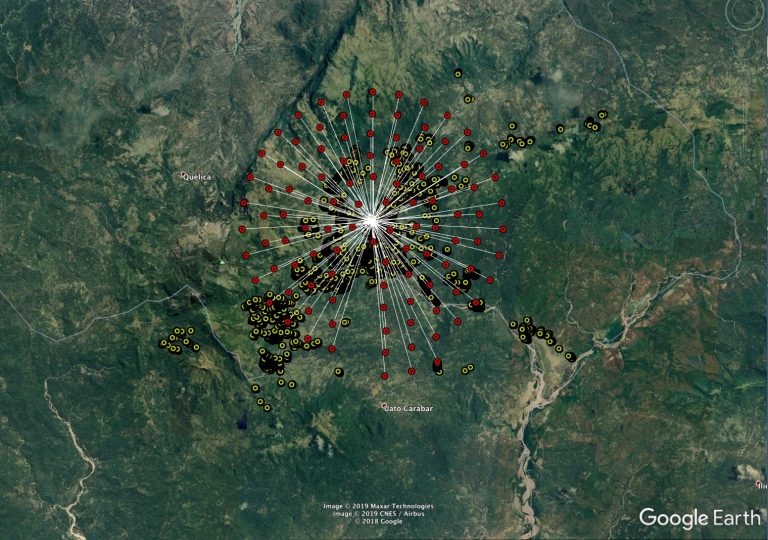 The European Union delegation in Timor-Leste has recently contributed €3 million to enable the WithOneSeed programme to extend its activities into other municipalities across the country.
The people of Timor-Leste are some of the lowest carbon polluters per capita in the world. Despite this, the active engagement WithOneSeed shows how those on the frontline of climate breakdown are often those most willing to act to address the global carbon problem.
Tree farmers in Timor-Leste are leading the way by taking responsibility and regenerating forests. As citizens of the globe, this should be our shared responsibility.
Header Image Credit: UN Photo/Martine Perret (CC BY-NC-ND 2.0)
Republished with permission from World Economic Forum