Written by: James McGregor

Popular home makeover TV shows like "This Old House", "Grand Designs", and the "Property Brothers" are highly influential in setting new trends which ultimately shape consumer decisions and consumption patterns. What we as sustainability innovators have been missing is that these type of shows represent an opportunity for us to drive mainstream demand for sustainable solutions- rather than scare people into action with depressing stories of how we are destroying the planet or trying to appeal to the moral high ground by telling them that sustainability is good for the environment we should aim to make them aspire to want sustainable solutions by giving them what they want- fun, entertaining, and inspirational stories.
The typical approach to driving behaviour change adopted by many in the sustainability sector is a 'top down' form of consumer education. If we just give people the right information then, of course, they will make better choices, companies will reengineer their supply chains, circular economies will thrive, renewable energy will proliferate, and we can all live out our lives in sustainable smart cities- easy right? The latest insights from behavioural science tells us otherwise.

In a comprehensive report into consumer behaviour and attitudes towards sustainability, researchers from the Cooperative Research Centre for Low Carbon Living wanted to understand the role of the media in shaping the decisions that consumers made during home makeover projects from initial ideas through to construction.

Their research found that the 'top down' approaches favoured by many in the industry which aim to educate or incentivise consumers to encourage low carbon makeovers are relatively ineffective in changing homeowners practices.

Globally, governments, NGOs, and even well-intentioned companies collectively spend billions of dollars providing "educational" material and incentives to consumers and businesses on why and how they can be more energy efficient, design more sustainable homes, recycle more, reduce food waste, reduce their carbon footprint- the web is littered with downloadable pdf fact sheets, websites of all shapes and sizes, rating tools, videos, and advertising all trying to convince consumers to behave more sustainably. This research suggests that if we really want to make change happen at scale, we need a new way of doing business.

One of the key findings of the research is that "sustainability should be communicated in a more mainstream way and in particular there was an opportunity to learn from mainstream broadcast media with an emphasis on entertainment and storytelling that has been shown to resonate with homeowner aspirations and lifestyles – and reflects and shapes the ordinary cultural context for home ownership/renovations."

In other words, the reality TV industry is giving us clues on how we can communicate for mass market appeal for sustainability, drive consumers desire for more sustainable housing and convert the often reported consumer sentiment of wanting to make more sustainable choices into real action.

Case Study- War on Waste

War on Waste is an Australian documentary television series which first premiered on 16 May 2017 on ABC TV.

War on Waste set out to drive mainstream change and awareness creating an entertaining, fun, and engaging TV series that also launched a top rating podcast and created a range of flow on benefits for the industry.

Stephen Oliver (Commissioning Editor, War on Waste): "While there have been plenty of news stories on waste over the years, and also some feature length documentaries on the topic, there have been no really engaging TV shows about it, so we thought with a good host, fun stunts, startling facts and real take-home solutions we could mobilise people to watch, join in and make a difference. Luckily, we were right!"

The series changed the national narrative on waste and created real change.

3.3 million Australians watched War on Waste – Series 2. 68% of people who watched the show, made positive changes to reduce their waste behaviours (source: ABC)

Impacts attributable to the series across government, business and consumers include:

Major supermarket chains Woolworths, Coles, and Harris Farm announced single-use plastic bag bans
The Western Australia and Victorian State Governments also announced single-use plastic bag bans.
McDonald's announced a phase-out of plastic straws, whilst venues all over Australia pledged to go plastic straw free. The Opera Bar located at Australia's iconic Opera House as part of the #SydneyDoesntSuck campaign will save 1.1 million plastic straws alone
Compost Revolution saw a 380% increase in demand for compost bins and worm farms
Foodbank had a 6-month waiting list for volunteers in Victoria and NSW
Responsible Cafes went from 420 member cafés to 4,500
Keep Cup Sales increased by 400%
It is clear that reality TV is highly influential in shaping consumer behaviour and purchasing decisions, but the challenge for all of us is to determine if we can harness this power for good and use it to shape a more sustainable future.

This is exactly what we are about to attempt. Our team is deep in the middle of putting this research into practice with a mission to shift the sustainability performance of the Australian housing industry which is responsible for 19.8% of Australia's greenhouse gas emissions. Our solution? A reality TV show, of course.

At the time of writing this, we are about 6 weeks away from the filming of a pilot episode for a reality TV concept with our client and a broad range of industry stakeholders.

The purpose of the pilot episode is to answer the question… Can we produce popular mass media content (similar to shows like the Property Brothers or Grand Designs) and integrate the latest behavioural science insights to drive consumer aspirations for sustainable housing?

Do I know exactly how all of this is going to turn out? No, but that is the exciting thing about sustainability innovations, it is a journey of discovery, and for this project, you get to come along for the ride with us as we share what we learn.

Keep an eye out for future updates and behind the scenes action in future articles but for now, here is a is a sneak peek of what the show will be about…

Two teams compete to convince a family who need more space and love the area they live in that they have the best solution for creating the home of their dreams. One team believes that the family should retain the character of their home, renovate and extend and create a modern home that also makes the best use of the existing home. The other team believe the existing home is a lost cause and the only way to create their dream home is to knock it down and rebuild.

As the two teams duke it out to come up with the best idea the story will unpack issues like the orientation of the home, access to natural light, ventilation, energy efficiency, solar power generation, construction waste etc.

The two solutions will be judged by an expert panel on criteria including style, sustainability, and cost but ultimately the decision will come down to the family- will they renovate or rebuild?
Introducing…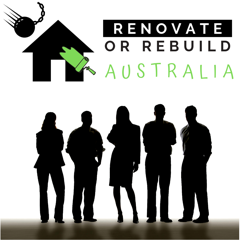 The title of the show is just a working title, and we would love to know what you think- what do you think the title of the show should be?
About the author
When his dreams of becoming an ice trucker were crushed by climate change, James McGregor decided to become Chief Sustainability Innovator, Founder and CEO of the Blue Tribe Company and helps leading companies and governments to design and implement successful sustainability strategies by unlocking the potential of research innovation.

The Blue Tribe Company is a specialist sustainability venture builder that collaborates with Government and Academia to solve challenging social and environmental problems. Their services range from strategy consulting through to the creation of new purpose driven spin-out companies that aim to solve some of our biggest social and environmental challenges.