Written by: Harry Kretchmer
On the misty slopes of the High Andes, villagers are at work planting trees.
Some have bundles of seedlings tied to their backs, others have babies. They have been doing this for 20 years. Small teams like this have planted over 3 million trees.
The idea – to restore native Polylepis forest decimated by burning and grazing – was started in Peru by the conservation non-profit Asociación Ecosistemas Andinos (ECOAN). It is now being repeated across South America, from Colombia down to Argentina, as ECOAN and its partner Global Forest Generation (GFG) scale the project.
Ideas like this, that promote climate resilience by restoring or conserving existing forest, are at the heart of the World Economic Forum's 1t.org project – a platform bringing together the trillion tree community. They are also vital to protecting the water that feeds the Amazon River.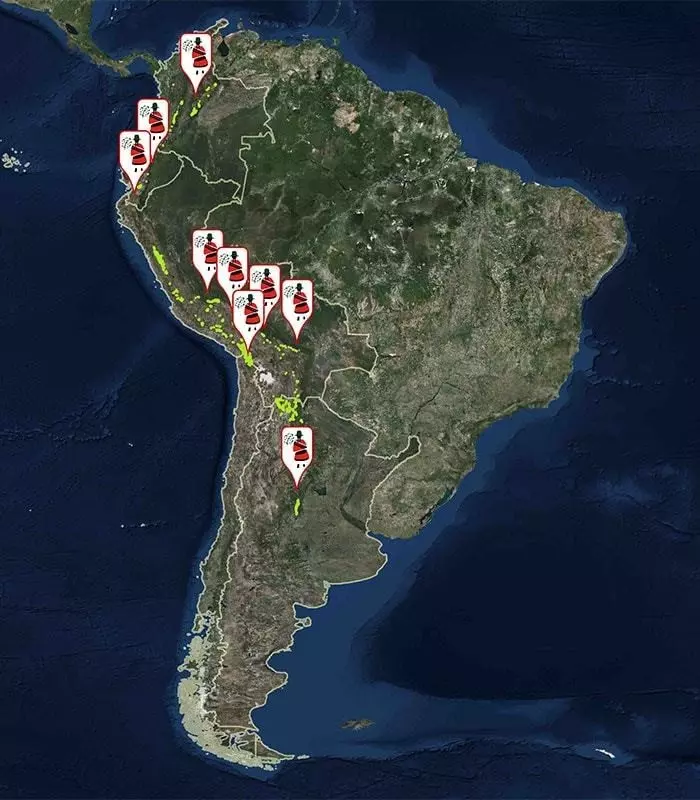 Why Polylepis trees matter
Gnarled and twisted, with flaking red bark, native evergreen Polylepis trees look otherworldly in their cloud forests – "green scarves" beneath shrinking glaciers. Growing up to 5,000 metres above sea level, they are the highest-altitude trees in the world.
As well as being a magnet for endangered birds and other wildlife, Polylepis forests absorb and retain huge amounts of water from Andean clouds. This keeps the soils around them healthy, and mountain streams flowing.
These cloud forests are a significant source of the water that flows into the headwaters of the Amazon.
But for centuries, millions of these trees have been disappearing. In some areas just 1% of original forest survives; in others it is 10%. Since the Inca civilization, Polylepis wood has been used for cooking fires and building materials. Today, while many Andean peoples know the value of Polylepis, they have no choice but to make use of them.
Big plans
Since 2000, the ECOAN conservation NGO has worked with Peruvian families to help them plant new trees, and at the same time lessen the need to cut them down, through technology like solar panels. So far 1.3 million Polylepis ("queuna" in Peru) have been planted, and 3 million native trees overall.
Andes Action is now scaling up this work throughout Andean communities across South America. It wants to restore 1 million hectares of High Andean mountain ecosystems. This will involve protecting the remaining half a million hectares of Polylepis forest across six countries, and reforesting half a million more.
Many local communities are enthusiastic. There is now an annual Polylepis tree-planting festival in Peru – Queuna Raymi. As many as 100,000 have been planted in a single day. Children and elders climb the mountain to plant together.
Tree planting builds on established Indigenous traditions: GFG explains that Quechua-speaking Inca descendants in the Andes practise "Ayni", shared community service for mutual benefit.
Conserving communities
Global Forest Generation says there is potential for 10 million trees to be planted per year, or more. But the project is also about sustainable development – a significant aspect of the World Economic Forum's goal of bringing partners together to plant 1 trillion trees.
"Bringing back forests means ensuring the future of Indigenous cultures," says Constantino Aucca Chutas, Indigenous leader and President of ECOAN.
Work is also taking place to give the project a solid foundation. "Conservation partners in each country enable communities to secure titles to their land, which reinforces identity and provides legal protection from exploitation," Florent Kaiser, Executive Director of Global Forest Generation tells the UN Environment Programme.
"We are in the process of building the infrastructure to make individual projects and the whole initiative investable."
Header Image Credit: ECOAN
Republished with permission from World Economic Forum