Written by: Kimberly White
Governments from around the globe have come together to champion a global deal for nature protection.
More than 50 countries have joined a new global alliance to halt species loss and protect vital ecosystems. Launched during the One Planet Summit, the High Ambition Coalition for Nature and People aims to protect at least 30 percent of the world's land and ocean by 2030.
Members of the Coalition harbor approximately 30 percent of global terrestrial biodiversity and 28 percent of ocean biodiversity priority areas. Additionally, the members of the High Ambition Coalition are home to a significant amount of carbon stores, together holding a quarter of terrestrial carbon stores and a third of ocean carbon stores.
Launched during the One Planet Summit, the High Ambition Coalition for Nature and People is co-chaired by Costa Rica, France, and the United Kingdom. The Coalition was initially announced by Costa Rican President Carlos Alvarado Quesada during Pre-COP25 in October 2019. 
"The fires, floods, and ice melts are planetary alarm bells for us humans to act. Costa Rica has heard these wake-up calls loud and clear and wants all nations to join us in launching a High Ambition Coalition," Alvarado stated in 2019.
Costa Rica, France, and the UK have stressed the importance of 2021 as the year for action on biodiversity and climate change.
"The year 2021 is made of opportunities that we must seize, in order to keep promoting the 30 percent protection target and the High Ambition Coalition," said Bérangère Abba, Secretary of State for Biodiversity of France.
Members of the Coalition are seeking to secure an ambitious global agreement to protect at least 30 percent of the planet's land and 30 percent of its ocean by 2030 at the Convention on Biological Diversity set to take place later this year in China.
"We have a moral and pragmatic imperative to come together, to take strong decisions that will get us one step closer to halting biodiversity loss and achieving the Paris Agreement goals," said Andrea Meza, Minister of Environment and Energy of Costa Rica.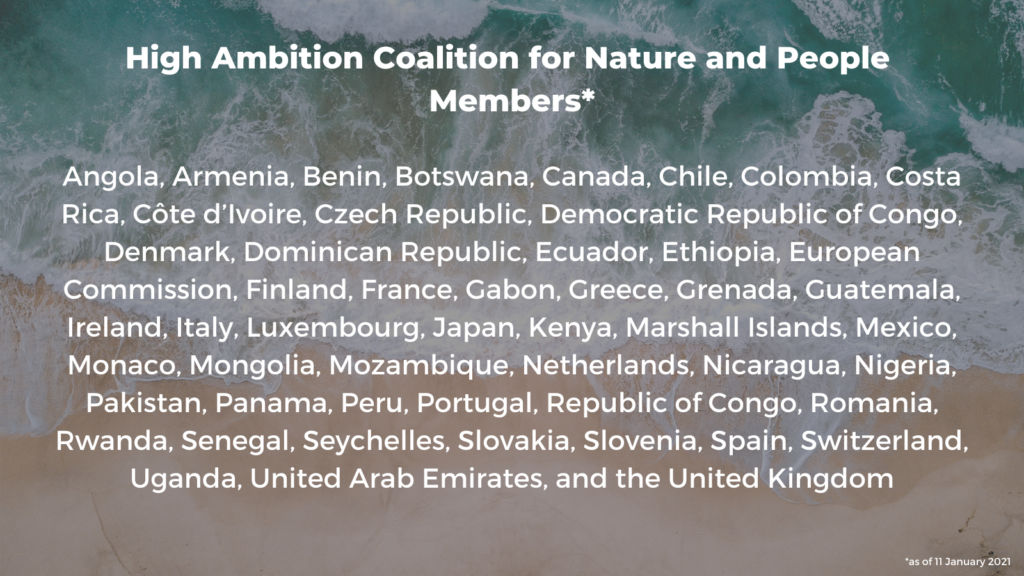 Increased conservation efforts, ambitious policies, and a shift toward nature-based solutions are more essential now than ever before.
Biodiversity loss is ranked as a top-five risk to our global economy, according to the World Economic Forum. Globally, we've lost a staggering amount of biodiversity. WWF estimates that the global wildlife population fell nearly 70 percent from 1970 to 2014. The 2020 Living Planet Report found that Latin America and the Caribbean have suffered one of the most alarming losses in biodiversity with a 94 percent decline in its Living Planet Index.
The benefits of protecting at least 30 percent of the planet's land and ocean outweigh the costs by a ratio of 5-to-1, according to a recent report. The annual investment needed for protecting 30 percent of our world's land and sea ranges between $103 to $178 billion. Each year, nature provides services worth an estimated $125 trillion globally. 
Last year, a report from the World Economic Forum found that prioritizing nature wasn't just good for the planet but also for business. Adopting nature-positive solutions could create $10.1 trillion each year in business opportunities and create 395 million jobs by 2030.
"Protecting 30 percent of the planet will undoubtedly improve the quality of life of our citizens, and help us achieve a fair, decarbonized, and resilient society. Healing and restoring nature is a key step towards human wellbeing, creating millions of quality green and blue jobs and fulfilling the 2030 agenda, particularly as part of our sustainable recovery efforts," said Meza.
Header Image Credit: Richard Ruggiero/USFWS