The entertainment industry is coming together to address the climate emergency. The Hollywood Climate Summit has officially kicked off its four-day interactive conference.
Presented by Netflix and NYU Los Angeles and produced by YEA! Impact, the summit aims to spur the entertainment industry to take unified, collective action on urgent environmental priorities.
Taking place during Climate Week, the event consists of four action-oriented days filled with digital, interactive programming and one-on-one networking. The event will also have an in-person outdoor "Eco-Bash," which will feature local tribes and frontline activists, a musical performance by actor and singer Lee Rodriguez, a screening of the documentary YOUTH v GOV, and more.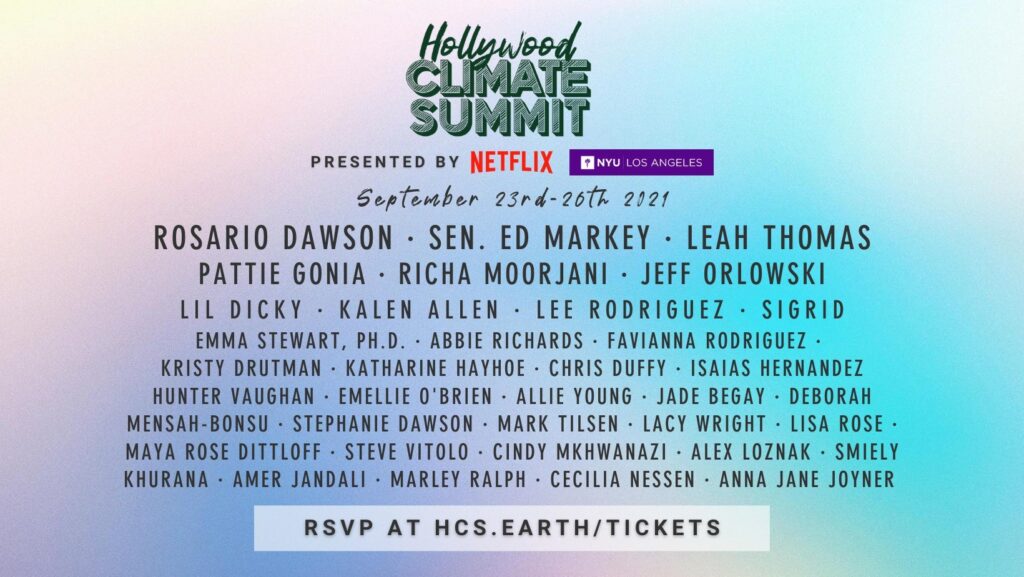 From September 23rd to September 26th, the summit will bring together a myriad of influential speakers, including Rosario Dawson, actor and producer; Richa Moorjani, actor and activist; Leah Thomas, eco-communicator and Founder of Intersectional Environmentalist; U.S. Senator Ed Markey; Lil Dicky, rapper and comedian; Pattie Gonia, environmentalist drag queen; and Katharine Hayhoe, climate scientist and author.
Program Highlights
Hollywood's Footprint Workshop: Policy leaders, scientists, and activists will discuss what it would take for the entertainment industry to transition to net zero and how Hollywood can best utilize its global power to infuse innovations in policy and science into storytelling.
Eco-Influencers: Top eco-influencers will discuss their passion for posting eco-friendly content on social media, the pressures and challenges they face to be an environmental educational resource, and share their top tips for creating a sustainable lifestyle both online and offline.
Centering the Land + Creating the Future: Experts will delve into how Indigenous methodologies can reframe the narrative and illuminate a path towards climate justice.
Pathways to Action: A 3-part interactive workshop will feature leaders in climate storytelling with a particular focus on leveraging media to drive action. Creatives will be challenged to imagine how to best tell ethical climate stories and implement conscious impact campaigns.
For the full program and to get your tickets, please visit the Hollywood Climate Summit.
The Planetary Press is a proud partner of the Hollywood Climate Summit