It has been nearly fifty years since the historic UN Conference on the Environment in Stockholm. The 1972 conference was the first of its kind to prioritize environmental issues and represented a turning point in the development of international environmental politics. Since then, we have struggled to redefine our relationship with our environment.
Our planet faces a multitude of environmental challenges, including climate change, widespread biodiversity loss, and the overexploitation of resources. New research from the IPCC shows that humanity has caused unprecedented warming and irreversibly altered the planet. Our planet is on a dangerous trajectory of global warming towards an irreversible Hothouse Earth pathway.  
Next year, governments from around the world will come together to commemorate the 1972 Stockholm Conference and adopt a high-level political declaration on the environment. This declaration needs to be as ambitious as possible if we are to save our environment and, ultimately, ourselves.
Now, a global coalition is hoping to build on the legacy of the Stockholm Conference ahead of its 50th anniversary. On October 20th and 21st, civil society will come together for Stockholm+49, a global event focused on building common ground and creating a declaration to spark a much-needed paradigm shift.
The summit aims to start the countdown for civil society to contribute to a promising 2022 Declaration.
Stockholm+49 has been organized by the Common Home of Humanity, Global Pact Coalition, the 2022 Initiative Foundation, the Stakeholder Forum for a Sustainable Future, and the International Institute for Law and the Environment (IIDMA). 
The summit will bring together world-renowned scientists, economists, lawyers, and diplomats to discuss legal and governance solutions to the environmental crisis and what the 2022 Declaration should include to solve it. These discussions will culminate with the adoption of a civil society declaration. This declaration represents an opportunity for civil society to lay the groundwork for States to increase ambition to tackle the converging environmental crises facing our planet and help deliver a meaningful outcome in 2022.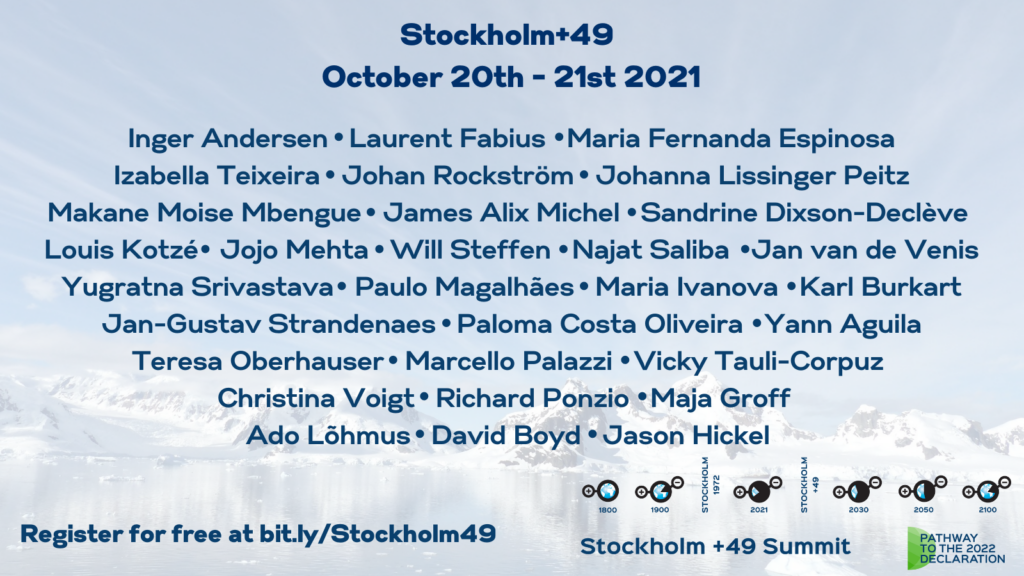 Event attendees will hear from a host of leading voices, including Inger Andersen, Executive Director of the United Nations Environment Programme; Laurent Fabius, former Prime Minister of France and Chair of COP21; María Fernanda Espinosa, President of the 73rd Session of the United Nations General Assembly and former Ecuadorian Minister of Foreign Affairs; Izabella Teixeira, Co-Chair of the United Nations Environment Programme's International Resource Panel and former Minister for the Environment of Brazil; James Alix Michel, former President of Seychelles; and David R. Boyd, UN Special Rapporteur on Human Rights and Environment.
Program Highlights
Science of Urgency
The Role of Law in the Anthropocene
Tools to Enforce International Environmental Law
Regulation Economy/Building for a Better Economy
For the full program and to register for free, please visit the official event website. 
The Planetary Press is a proud partner of the Stockholm+49 summit.