Written by: Kimberly White
Leonardo DiCaprio has joined forces with the European Commission and Global Wildlife Conservation to protect biodiversity through the launch of two new initiatives.
The Rapid Response for Ecosystems, Species, and Communities Undergoing Emergencies (Rapid RESCUE) initiative aims to provide rapid response to emerging biodiversity threats. It will largely focus on lessening the impacts of future emergencies on vital ecosystems.
The COVID-19 pandemic brought ecotourism, a crucial revenue source, to a grinding halt, creating a funding deficit for protected areas around the globe. While ecotourism contributes significantly to many countries' national economies, it also provides a revenue stream for conservation. Since the start of the pandemic, poachers have begun to encroach on areas that they wouldn't normally visit, such as tourism hotspots.
The new Rapid RESCUE initiative will bolster available resources not only for protected areas but also for their surrounding communities.
"Our planet's biodiversity underpins healthy ecosystems, which are essential to a healthy planet for people and wildlife," said Wes Sechrest, GWC Chief Scientist and CEO. "Only by investing in nature-based solutions, as GWC and the European Commission are doing, can we tackle the twin crises of wildlife extinction and climate change, and prevent future pandemics."
The trio's second initiative is focused on supporting Virunga National Park in the Democratic Republic of the Congo. The most biodiverse protected area in Africa, Virunga National Park is home to mountain gorillas, the only great ape in the world with an increasing population. The park was featured in the 2014 Oscar-nominated documentary, Virunga, which showcases the threats the park faces and the brave individuals fighting to protect it.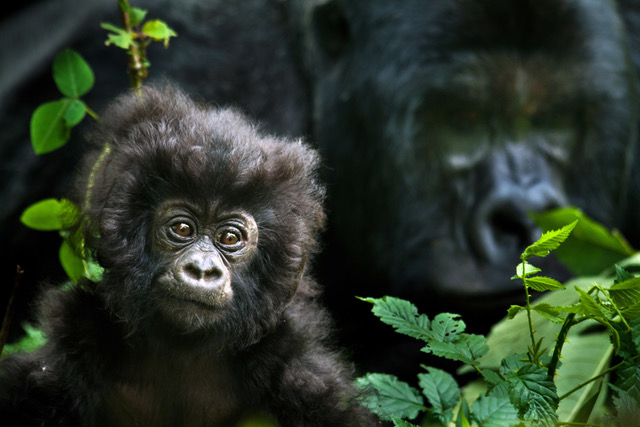 The new initiative will help expand the park's operational capacity, support habitat restoration and species reintroduction, and boost Virunga's role in "economic growth, peace, and stability in eastern Congo."
All tourism activities in Virunga shut down in March 2020 due to the coronavirus pandemic, leading to a substantial loss of revenue. Following the park's closure, tragedy struck when 12 Virunga rangers, a driver, and four members of the local community lost their lives after being attacked by an armed militia group.
"2020 has proven to be an extraordinarily difficult year for Virunga and in particular for the team on the ground," said Emmanuel De Merode, Director of Virunga National Park. "We have suffered tremendous loss, yet this partnership fosters renewed hope in the future and will enable us to maintain our critical work to protect the park, its wildlife, and surrounding communities."
Together, DiCaprio, the EU Commission, and GWC have committed $40 million to support the two initiatives. Out of the $40 million, $35.6 million was allotted to the Rapid RESCUE initiative, while the remaining $4.4 million will support Virunga National Park.
"This year has shown that we are at a critical turning point for our planet and that we must choose to protect and restore wildlife and ecosystems, for their sake and for our own health," said DiCaprio. "The current pandemic, devastating fires in the Amazon, Australia, the Congo, the larger and more frequent hurricanes in the Caribbean, and other environmental crises have shown that we must reset our relationship with nature. I am honored to work with Commissioner Urpilainen, the EU, and GWC to establish this fund to implement urgent conservation actions around the world."