Written by: Kimberly White
A new PSA from Veganuary is calling for everyone to do their part to combat climate change through diet change. The UK-based non-profit unveiled its new PSA as part of its global campaign to encourage people to switch to a vegan diet for the month of January.
Narrated by actor James Cromwell, the animated PSA shows Bigfoot joining the Veganuary challenge in an effort to cut his carbon footprint. The advertisement aims to show that despite the climate crisis, everyone is in this together and has a part to play. Bigfoot calls on everyone to take on the 31-day challenge and join a growing global community of people striving to drive positive change.
"Like our protagonist, many people want to do their part to tackle the climate crisis and know that changing their diet is a good place to start – but it can seem daunting," said Wendy Matthews, U.S. Director for Veganuary. "By signing up to Veganuary they are joining a growing global community that will support them. And hopefully, as bigfoot does in the video, they'll see that taking collective action feels great!"
Since its launch in 2014, Veganuary has received support from a host of celebrities, politicians, NGOs, and businesses. Ambassadors for this year's challenge include New York Mayor Eric Adams, Jane Goodall, Evanna Lynch, Chris Packham, Weird Al, James Moore, Peter Egan, and Mayim Bialik.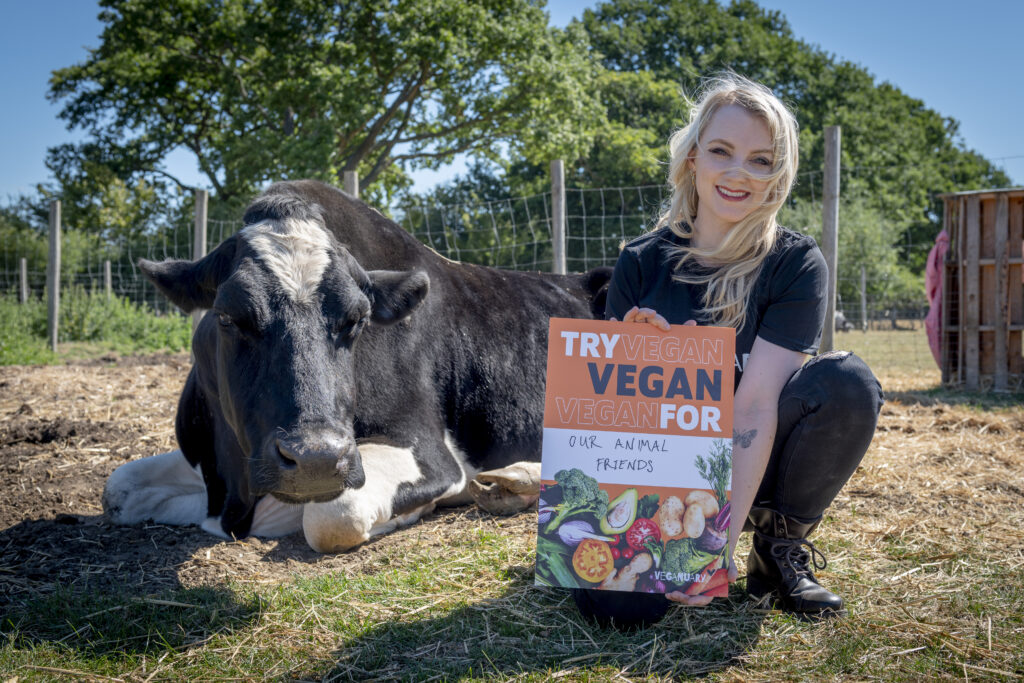 The organization reported that Veganuary 2021 had more than 582,000 participants from 209 countries and territories, growing from 400,000 in 2020. For 2022, the UK-based non-profit hopes to spur people to take climate action into their own hands following the failure of COP26 to address the impacts of animal agriculture in November.
Animal agriculture, a leading cause of the climate crisis, was notably absent in the discussions in Glasgow. Animal agriculture accounts for more than 14 percent of all human-caused greenhouse gas emissions, with the industry emitting more than seven gigatonnes of carbon dioxide annually.
Each year, billions of animals are slaughtered for human consumption. The widespread production of meat and dairy products throughout the years has been linked to increased land degradation and deforestation.
Plant-based diets have been shown to have a smaller environmental footprint compared to diets rich in meat and dairy. In a 2021 report, the United Nations Environment Programme noted that changing the dietary habits of consumers, especially those in developed nations, would be beneficial for biodiversity and climate.
"Trashing the planet does none of us any good, as the coronavirus pandemic shows all too clearly. But we can emerge from this stronger and wiser, with a renewed commitment to protecting the environment, its inhabitants and our own futures. Being vegan is a great way to support the natural world and to live sustainably," said Chris Packham, TV presenter and conservationist.
The appetite for plant-based proteins such as Impossible Burger and Beyond Meat have grown substantially in recent years. The plant-based food market is anticipated to top roughly $74 billion within the next five years.
More consumers in the United States are opting for plant-based meals. Recent research found that approximately 32 percent of Americans plan to eat more plant-based foods in 2022. An estimated 31 percent of Americans have shown interest in transitioning to an entirely plant-based diet but have concerns regarding their ability to stick with it and affordability, according to the survey. Veganuary hopes to bridge the gap by providing all registered participants with a starter kit, recipes, meal plans, and additional support.
"As more Americans become aware of the incredible influence our food choices have on our day-to-day wellbeing and the health of our planet, attitudes towards eating vegan are changing," said Matthews. "And while shifting our diets may seem daunting, signing up to Veganuary makes it much easier as our free pledge is filled all of the tools and resources you need to make it fun and easy." 
Header Image Credit: Veganuary/YouTube
To sign-up or learn more, please visit Veganuary