Written by: Kimberly White
Beyond Meat's latest creation is hitting grocery stores around the U.S. this month. The new version of the plant-based burger is boasted as even "meatier."
Similar to Beyond Burgers from seasons past, it is gluten-free and made without GMOs or soy. However, the new burger will feature something new. The team at Beyond Meat designed the burger to melt and tenderize like tradition ground beef by including marbling. The marbling comes from a blend of coconut oil and cocoa butter.
"The new Beyond Burger is the next step in our journey toward building meat directly from plants that delivers a consumer experience indistinguishable from its animal protein equivalent," said Ethan Brown, Beyond Meat Founder and CEO.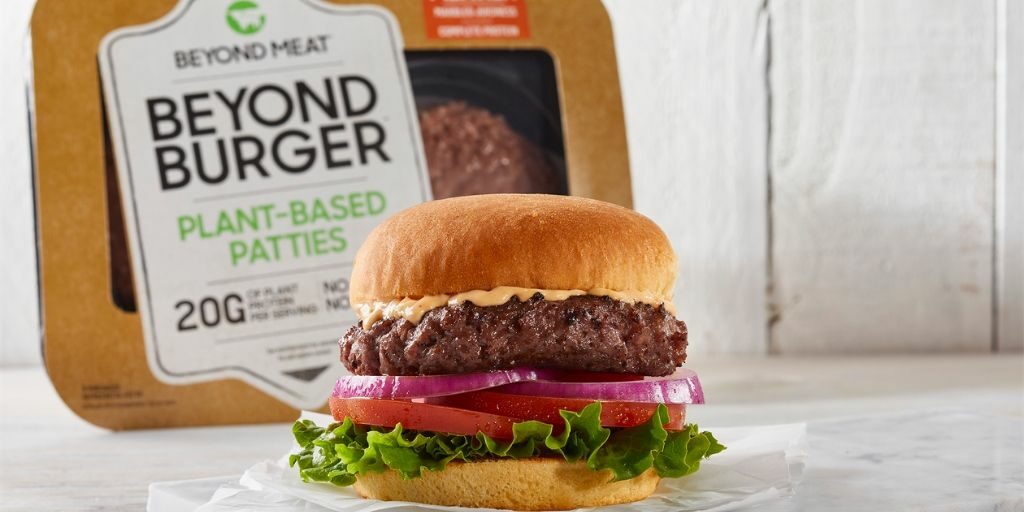 While the flavor may be indistinguishable from animal protein, Beyond Meat's footprint certainly is. A study conducted by the University of Michigan compared a traditional beef burger with Beyond Meat's plant-based burger. The results showed that the Beyond Burger requires: 99% less water, 93% less land, uses 50% less energy, and produces 90% fewer greenhouse gas emissions.
Animal agriculture is a leading cause of the climate crisis, emitting around 7.1 gigatonnes of carbon dioxide annually. In the United States, consumers in search of a healthier alternative or a smaller environmental footprint are turning to plant-based proteins. Nearly a quarter of the population has begun adding more plant-based options into their diets, and fast-food chains have taken notice.
Del Taco, Burger King, Carl's Jr., and White Castle have all added plant-based meat to their menus.  
Beyond Meat has been making headlines recently. The company went public in May 2019 and has been a surprise to onlookers. Initially trading at $25, Beyond Meat's stock has since risen 700%. Earlier this week, the stock opened at more than $200 per share. Currently, the stock sits at about $170 per share- giving the company a value of more than $10 billion.
Leonardo DiCaprio, Kyrie Irving, Shaquille O'Neal, and Lindsey Vonn are among the company's celebrity investors.
"Livestock production is a major contributor to carbon emissions. Shifting from animal meat to the plant-based meats developed by Beyond Meat is one of the most powerful measures someone can take to reduce their impact on our climate. The company's ability to create appealing, healthy meat directly from plants will go a long way in helping every day consumers take action on climate change," said DiCaprio.
Header Image Credit: Beyond Meat